TRAVEL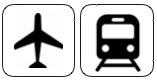 AIRPLANE: Bologna has an international airport, "Guglielmo Marconi", 8 km from the city center and with frequent connections to many European destinations. It is the best option if you are flying from outside of Italy.
TRAIN: Two railways (Trenitalia, Italo) offer frequent connections to Roma, Florence, Milan, Venice and many other towns in northern and central Italy.
How to reach Bologna City Center
From the airport: take the "BLQ" shuttle to city centre (the ticket costs 6€ and can be bought on-board). You can get down at the "Mille" stop and you are basically in the city centre (near via Indipendenza and Piazza VIII Agosto, where most of the hotels are located).
From the railway station: it is a short walk (10-15 minutes) to reach Piazza VIII Agosto, via Indipendenza and Piazza Maggiore. Several buses (11, 36, 37, C, D ..) departs from the Train station towards the city center (a couple of stops). Bus tickets are 1.20 € if purchased at shops (1.50 € if purchased on board).
ACCOMODATION
List of hotels in the city center and near the conference venue for which rates have been agreed (including breakfast)
Please refer to "X-Ray Astronomy" when you book the hotel!
To ensure the availability of the room it is essential to book the hotels before July 6th 2019, considering the period that attracts many tourists.
HOTEL

Single Room

Double

Single Use

Double/

Twin Bed

Web Site

Hotel I Portici****

10% discount

10% discount

I Portici

Via Indipendenza 99 – 40121 Bologna

www.iporticihotel.com

Mercure Hotel****

90,00

105,00

120,00

Hotel Mercure

Viale P. Pietramellara 59 – 40121 Bologna

www.accorhotels.com/it/hotel-1310-mercure-bologna-centro/index.shtml

UNA Hotel****

138,00

158,00

UNA Hotel

Viale P. Pietramellara 41 – 40121 Bologna

Hotel.BolognaCentro@unahotels.it

www.gruppouna.it/unahotels/unahotels-bologna-centro

Royal Hotel Carlton****

131,00

161,00

Royal Hotel Carlton

Via Montebello 8 - 40121 Bologna

www.royalhotelcarltonbologna.com

Zanhotel Tre Vecchi****

110,00

Zanhotel Tre Vecchi

Via Indipendenza 47 – 40121 Bologna

Zanhotel Europa****

105

125

Zanhotel Europa

Via Cesare Boldrini 11 – 40121 Bologna

bookinghoteleuropa@zanhotel.it

www.zanhotel.it/hotel-europa-bologna

Hotel Astoria***

110

130

145

Hotel Astoria

Via fratelli rosselli 14 – 40121 Bologna

Millenn Hotel***

79

89

Millenn Hotel Bologna

Via Cesare Boldrini 4 – 40121 Bologna

www.millennhotelbologna.it

Hotel Donatello***

135

155

Hotel Donatello

Via dell'Indipendenza 65, 40121 Bologna

hoteldonatello@hoteldonatello.com

www.hoteldonatello.com

Hotel Accademia***

66,00

78,00

90,00

Hotel Accademia

Via delle Belle Arti 6 – 40126 Bologna

www.hotelaccademia.com

Hotel University***

74,00

96,00

Hotel University

Via Mentana 7 – 40126 Bologna

www.hoteluniversitybologna.it