TRAVEL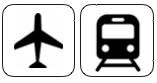 The Palermo Airport, called "Falcone e Borsellino", is located in the "Punta Raisi" area, ~30 km West from Downtown.
Taxi: The taxi fare from the Airport to Palermo Downtown (or viceversa) is ~ 45 euros during the day; the fare is higher in the night.
Bus Shuttle: The bus shuttle ("Prestia e Comande" Company) will bring you from the Palermo Airport to Downtown (or viceversa). The journey is nominally 40 minutes, but it can depend on traffic. The ticket cost is 6,30 euros and you can buy it directly online. At the Airport, the bus shuttle terminal is located just outside the "Arrival" zone. There are more than 20 daily trips, at a frequency of 30 minutes, from 6:30 a.m. to 11:30 p.m. approximately. To reach Palermo stop at the "Politeama Theatre"; Hotel Federico II Central Palace is very near, look at the map.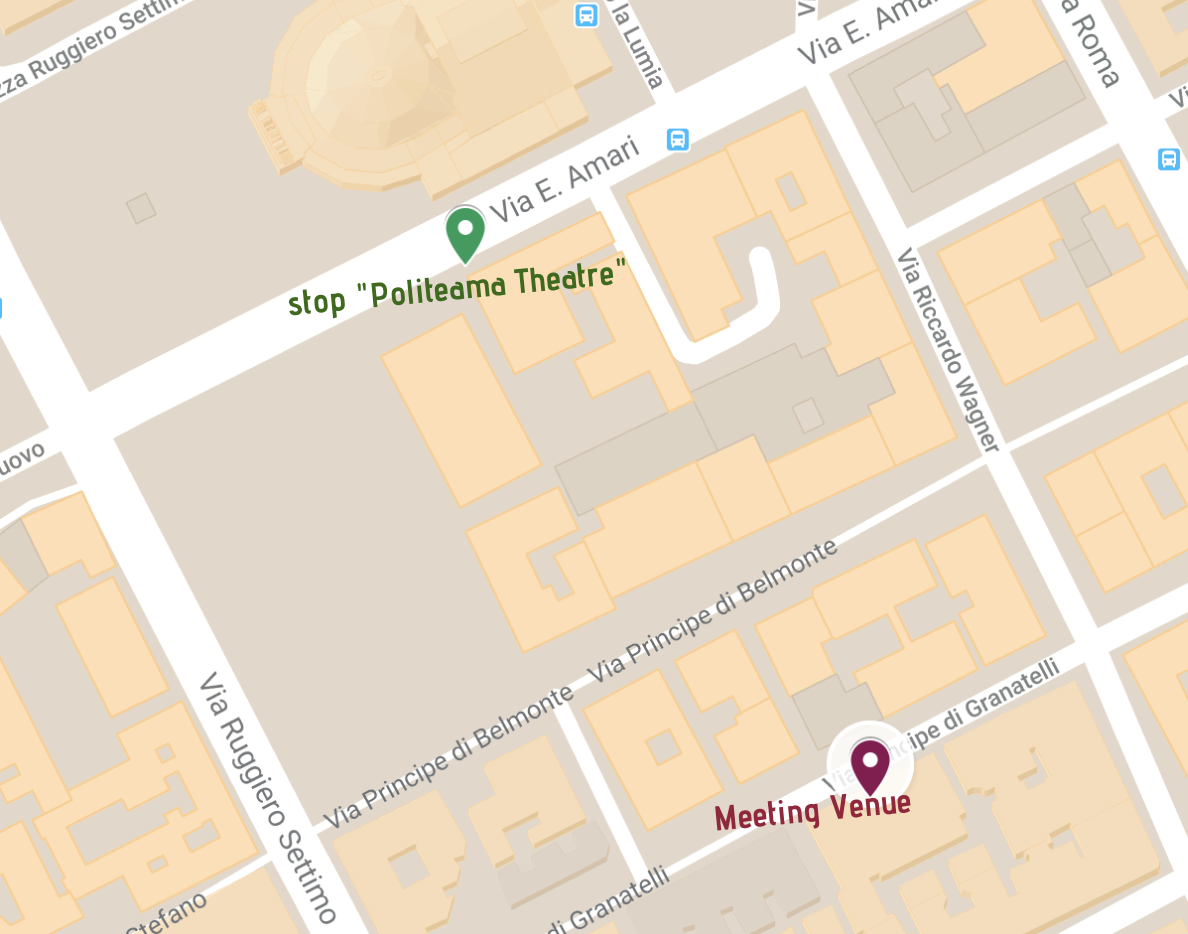 ACCOMODATION
The Historical Centre of Palermo is plenty of lovely places where to stay.
A list of hotels and B&B nearby the Meeting follows:
Hotel Federico II Central Palace
Via Principe Granatelli, 60 90139 Palermo
(+39) 091 7495052
Via Michele Amari, 11, 90139 Palermo
(+39) 091 6111765
http://www.booking.com/Share-V7U9hn
Hotel Serena
Via Mariano Stabile, 139, 90139, Palermo
(+39) 091 6115144
http://www.booking.com/Share-NqLbohI
Via Mariano Stabile, 126, 90139, Palermo
(+39) 091 581754
http://www.booking.com/Share-D1gRlJ
Via Principe di Belmonte, 102, 90139, Palermo
(+39) 091 9825946
http://www.booking.com/Share-RMQRME
Via Ruggero Settimo, 55, 90139, Palermo
(+39) 391 7013481
http://www.booking.com/Share-m2jnxM
Via Mariano Stabile, 139, 90139, Palermo
(+39) 091 332434
http://www.booking.com/Share-zozxfZ
Via Principe di Belmonte, 90, 90139, Palermo
(+39) 091 8434989
http://www.booking.com/Share-jsa7ar
Via Mariano Stabile 136, 90139, Palermo
(+39) 091 325513
http://www.booking.com/Share-ZcdBW3
B&B In Centro Palermo
Via Emerico Amari, 140, 90139 Palermo
http://www.booking.com/Share-RoKM7k
Via Emerico Amari 112, 90139, Palermo
(+39) 091 6537182
http://www.booking.com/Share-Qir8Ma
Via Rosolino Pilo 43, 90139, Palermo
(+39) 091 581133
http://www.booking.com/Share-4SvOgX